The first time I heard the phrase "women aren't funny" I thought to myself, "that's really funny. I bet a woman came up with that." Then, when I realized it wasn't a joke, I spent an entire evening determining just how many ways it's possible to dislike Christopher Hitchens, and I did enough internet research to come to the horrified (yet, ugh, not surprised) conclusion that people actually believe that there is something about women that makes them less funny than men. In case you've been blissfully unaware of this longstanding belief in women's comedic inadequacies, Bitch Media has put together this helpful timeline. In fact, while you're at it, take a reading break and spend the next four minutes watching a group of hilarious women respond to claims that they aren't funny. Because, dammit, women have been funny for at least as long as people have been telling us we're not.
I thought about writing a long-winded rant detailing just how sexist the whole idea that women aren't funny is (who gets to decide who does and doesn't count as funny? For that matter, who gets to decide what standards of "funniness" we're using in the first place?). However, when I asked my friend, "What do you think about this idea that women aren't funny" and she responded, "Bullshit. I'm hilarious," I threw the entire idea out the window. Instead of talking about why people think women aren't funny, I realized it would be a lot more fun to spend this time proving the naysayers wrong. Newsflash: women make me laugh until I'm tear-soaked and split at the sides and I have a sneaking suspicion it isn't just me. Additionally, (because I'm nothing if not ambitious) I don't just want to show you that women are funny. What I'm really bursting to share is the fact that feminist women are funny. "Whaaat?" says you who's been convinced all along that feminism is about as funny as the stomach flu – you just might want to hold on to your pants. Things are about to get exciting.
For the record, the comedians I'm about to reference come from a fairly mainstream and well-known group of women. While heaps of high quality feminist comedy exists throughout the world's many local comedy scenes, I have only so many words to work with before this blog post becomes a novel and I have to hold myself back somewhere. Also, I think it's important to point out that feminist comedians aren't just working within a "niche market" of feminist comedy consumers. Nope, these ladies are infiltrating the many corners of popular culture faster than you can say "Whoopi Goldberg" and I think there's something mighty revolutionary about that. 
Point #1: Margaret Cho: 
Margaret Cho starting writing standup comedy when she was 14. By the time she was 16, she was performing professionally. Today, we know Margaret Cho as the comedian and performer who has travelled around the world doing standup (and producing films along the way) and who's starred in the television shows All-American Girl, The Cho Show, Drop Dead Diva, and Dancing With the Stars. She's made a Grammy nominated album of musical comedy called Cho Dependent and she's written two books, I'm the One That I Want and I Have Chosen to Stay and Fight. Why have I bothered to tell you all of this? The point I'm trying to make here is that Margaret Cho is pretty much the shit. Not convinced? Let me show you: 
1. Firstly, she is hilarious and witty about race. I mean, really hilarious and witty. 
2. Secondly, she has some funny stuff to say about contraceptives, feminism, and being and expert on North Korea.
3. Thirdly, she makes us laugh about monogamy, childbirth, and why she is not a mother.
One of the things that makes Margaret Cho so incredible is the person that she is behind the comedy. Growing up as the target of bullying, even Cho's success as a comedian didn't silence the people who have tried to change who she is. In her bio on her website, she speaks about the experience of having ABS "water down" her show, All-American Girl, to the point that it became "completely lacking in the essence of what I am and what I do." Cho faced scrutiny so severe that she ended up hospitalized for kidney failure as the result of an eating disorder (an experience she talks about in the documentary Miss Representation). Despite these struggles, Cho has continued to focus on staying true to who she is and has worked to remain in charge of the production and distribution of her work so she can keep telling the jokes that need to be told. An active and ardent feminist, Margaret Cho has worked with a variety of anti-racist, anti-bullying, and gay-rights campaigns and has won award after award not just for her work as an entertainer but also for her dedication to social justice. At this point you're probably more than convinced you're in love with Margaret Cho, but, just to be extra helpful, here's a link to her blog. My current favourites? "Why is it great to be a queer icon?" and "You are not ugly. Don't make videos".  
Point #2: Amy Poehler: 
Amy Poehler has been knocking some improv socks off for pretty much forever, starting with her work in college as well as her time with Second City, Upright Citizens Brigade, and a variety of other improv groups. Of course, there was also that whole thing where she became a huge star on Saturday Night Live and we all had insta-crushes. Then, (THEN) as if we weren't already convinced of Poehler's greatness, this little thing called Parks and Recreation happened and now my partner and I have stopped going on dates because sitting on the couch laughing our asses off to Poehler and the rest of the Parks gang is always infinitely more enticing. In an article called "Sitcoms are the Golden Land of Feminist TV Characters," Bitch Media writer Gabrielle Moss talks about the pattern of sitcom feminists who are either "flakes" or "ball busters". That is until Poehler's Leslie Knope came along and proved that feminism doesn't have to be portrayed as a laughable and out-of-touch quirk in our so-called "post-feminist" world, but that it can instead be a part of a character that makes them endearing and, more importantly, relatable.
 One of the things I love most about Amy Poehler is just how open about feminism she is. In a time when women entertainers everywhere are avoiding the word "feminism" like the plague, Amy Poehler is off making a show for girls that focuses on highlighting just how badass they really are. Yep, just because they rock, Amy Poehler got together with her friends Meredith Walker and Amy Miles to create a show called Smart Girls at the Party which teaches girls all about their awesomeness. Part of her motivation for the show, as Poehler explained when she was asked about the over-sexualization of acts like the Pussycat Dolls, is because
"Once it comes into the adult realm it's like, 'Great, go for it, do your own thing … Sit on cakes. Do whatever the fuck you want.' It's just that I get worried for young girls sometimes; I want them to feel that they can be sassy and full and weird and geeky and smart and independent, and not so withered and shrivelled … More than it being the Pussycat Dolls thing? It's just distracting from what is real power."
Granted, I haven't spent enough time perusing the website to be convinced that Smart Girls at the Party's approach to feminism is necessarily intersectional nor am I entirely sure how the show frames the issue of gender expression more generally, but when I watch videos like this one, I can't help but feel at least a little excited about the whole idea. 
But enough of me blabbing. Here's a video of Amy Poehler as Leslie Knope using every sexist stereotype she can think of to her advantage as she tries to distract and confuse a park ranger (this, for the record, is one of those rare occasions where ironic sexism is actually funny).
Point #3: Wanda Sykes: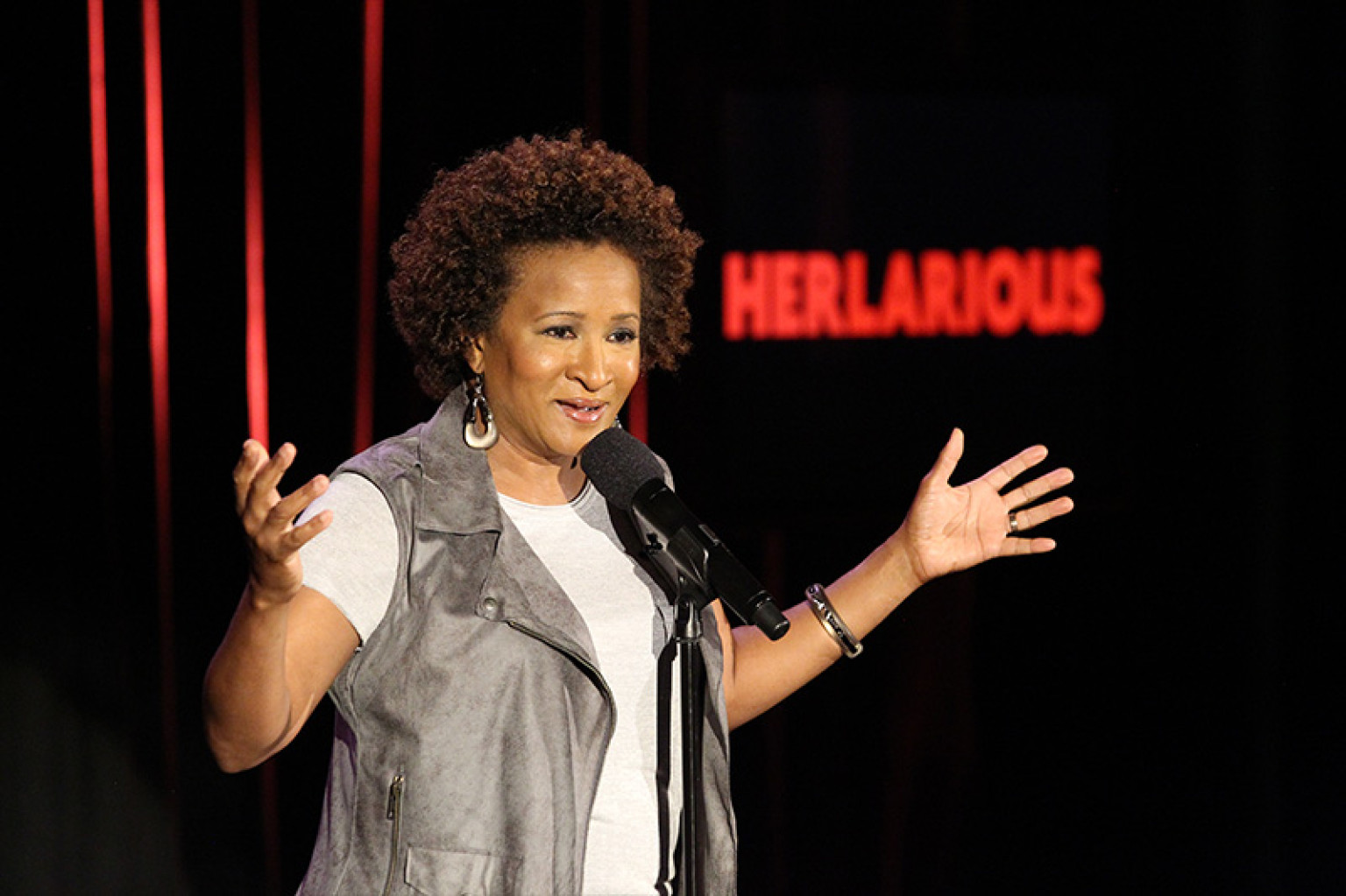 If you're a friend, relative, or colleague of mine, there's a very good chance you're aware of my firm belief that Wanda Sykes is god's gift to the world (which is saying a lot, coming from the girl whose relationship with god is rocky at best). Like Margaret Cho, Wanda Sykes has been rocking the standup scene in all the right ways for ages. Also, she's written and performed for The Chris Rock Show in addition to starring and making appearances in the television shows Wanda at Large, Inside the NFL, Premium Blend, Crank Yankers, Wanda Does It, and The New Adventures of Old Christine. She's also written a book called Yeah, I Said It which I haven't read but am currently adding to my list of "absolutely must reads". Just when you're feeling like Wanda Sykes has already been awesome enough for one lifetime, there was also that time she was the featured entertainer at the 2009 White House Correspondents' Association dinner. (She made some comments about Rush Limbaugh that some people got a bit upset about but, really, I dare you not to laugh at them.) Super fun fact? In spite the sexism, racism, and heterosexism that creates immense barriers to queer women of colour's participation in popular culture, Sykes was the first African American woman and the first openly queer person to be the featured entertainer at the White House Correspondents' dinner. Like I said, she's pretty incredible.
Wanda Sykes is so hilarious and well loved that, as I was researching to write this post, I got lost in a sea of blogs calling her "detachable vagina" joke the perfect example of a joke about rape that is actually funny and helpful. Instead of shaming victims, Sykes makes us think about how pervasive the fear of sexual violence can be in people's lives and even makes us laugh while she's doing it. Also on the list of Wanda Sykes jokes that we can't get enough of? That time she talked about "dignified black people", when she pointed out just how ridiculous "reverse racism" really is, and when she imagined the experience of "coming out black".
Sykes continues to make all of our lives better, not just by cracking us up, but also by speaking out about marriage equality, working with organizations like PETA, and by participating in anti-homophobia campaigns like the 2008 "Think Before You Speak Campaign". Sykes is such a gifted comedian that she even manages to make jokes about Sarah Palin without being sexist or offensive. While I couldn't (for the life of me) find a clip of her interview with Jay Leno where she speaks about Palin, incredible feminist blogger Melissa McEwan did manage to create a transcript of it so we can still get our laugh on. Highlight? The moment where Sykes calls herself a feminist on television. WHAAAT?! (Sometimes… it really is the small things.) Haven't had enough Wanda Sykes yet? Don't worry, I've got your back. Check out her website for more feminist hilarity.
Now, I think if we take a moment to collectively consider the logical premise outlined by points 1, 2, and 3, we can come to the conclusion that I've just presented a rather compelling argument. Margaret Cho, Wanda Sykes, and Amy Poehler are really just the tip of the iceberg when it comes to women being hilarious and feminist in incredible ways. While the general purpose of this post has been to discuss this in good fun, I think it's worthwhile to take a moment to consider the reality that humour is powerful and compelling and that it has an undeniable ability to bring people together. Comedy is one of the best parts about being alive. So, when I'm arguing against claims that women (and feminism) aren't funny, I'm not just doing it for the hell of it. I do it because feminist comedy has given me the space to laugh like I've never laughed before. I wrote this because it's women like Cho, Sykes, and Poehler who are the reason I haven't given up on popular culture. When you tell me that women aren't funny, I'm not just offended by your ignorant sexism, I'm hurt by your denial of the kind of humour that makes me feel like a healthy and happy human being. So, please, crawl out from that sad, lonely hole dug by the cold hands of patriarchy and watch Mindy Kaling be funny and awesome at everything she does or check out Aubrey Plaza in The To Do List and… don't forget to laugh. 
Tags: amypoehler, aubreyplaza, comedy, feminism, margaretcho, mindykaling, popculture, wandasykes
Tweet